Alumni
Edgewood Campus School has over 4,000 alumni. Our alumni cherish fond memories of their early learning years on our beautiful campus set among the majestic oaks on the shores of Lake Wingra.
Founded in 1881, ECS enrolls the children and grandchildren of alumni. With each passing year, the number of second and third generation children grows, strengthening our traditions and increasing our community ties.
Welcome Home!
Campus School alumni are always welcome to come back and visit! We would love to help you plan a class reunion where you can meet, greet, and eat while you stroll the hallowed halls of the Campus School. We invite you to join our prestigious roster of alumni. We will keep you connected with our annual report. Be sure you contact us and join our mailing list.
Featured Alumni
We wanted to share what's happening with some of our ECS alumni:
Margaret Berigan McKinley, ECS '60
Margaret Berigan McKinley, Edgewood Campus School 1960 graduate, returned to ECS and shared lots of history and memories with us! Margaret recently retired from Our Lady Queen of Peace School, where she was the school librarian.
The Berigan family gifted the Campus School with the beautiful relief on the Holy Family located at the apex of our hallway where morning prayers are held each day.
Jeff Greenheck, ECS '67
Jeff Greenheck, Edgewood Campus School class of 1967, came back for a visit and was given a grand tour of the Campus School. He has very fond memories of his days in grade school, especially of Sister Christina (Christina Cegelske), his kindergarten teacher. Jeff is currently the operations director of Metcalfe's Markets. Thanks for the donation from Metcalfe's, Jeff!
Alex WitzAlex Witz, ECS '07
United States Military Academy at West Point
Alex is in his second year at West Point, majoring in political science and minoring in engineering. He plays goalie on the club hockey team and is looking forward to being a squad leader during Army training this summer at Camp Buckner.
Robert Kozarek, ECS '03
"Rolling With the Punches"




Colin Paiva, ECS '11
"Eagle Scout Earns all 130 Merit Badges"




Alumni from the Past
Class of 1964 Graduation Class
Click to Enlarge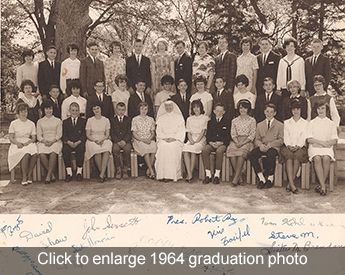 Class of 1964 6th Grade Class
Click to Enlarge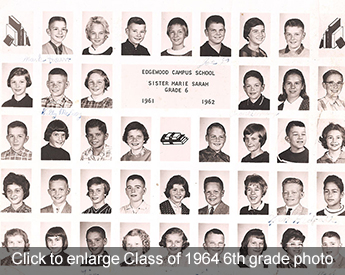 Class of 1987
Click to Enlarge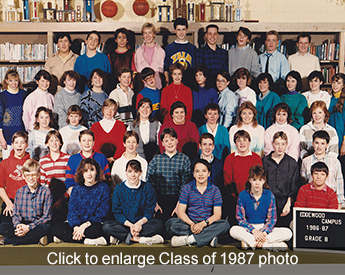 Alumni News
Prepare Your Child for the Start of the New Year
As a parent or caregiver, your child's academic achievement depends on your role in preparing your child for school. You can ensure your child's success in learning and life by getting involved early in your child's education. Communication between parent and child is crucial. Your connections to the school and his or her friends will help your child adjust to school. Here are some ideas to help prepare your child for the upcoming year:
Let your child know what the schedule will be like. Include what time school begins and ends each day.
Ask your child about his/her feelings -- both the excitement and the concerns for the first day of school.
Visit the school with your child to see the classroom and meet his or her new teacher before school officially starts.
Point out the positive aspects of starting school. It will be fun and he or she can make new friends.
Let your child know that all kids are nervous about the first day of school.
Leave a note in your child's lunchbox.
Reassure your child that if any problems arise at school, you will be there to help resolve them.
Try to have your child meet a classmate before the first day of school.
Arrange for your child to walk to school or ride together on the bus with another child in the neighborhood.
Find out about after-school activities that your child can join.
Please be sure to update all contact information for your child.