Alumni
Edgewood Campus School has over 4,000 alumni. Our alumni cherish fond memories of their early learning years on our beautiful campus set among the majestic oaks on the shores of Lake Wingra.
Founded in 1881, ECS enrolls the children and grandchildren of alumni. With each passing year, the number of second and third generation children grows, strengthening our traditions and increasing our community ties.
Welcome Home!
Campus School alumni are always welcome to come back and visit! We would love to help you plan a class reunion where you can meet, greet, and eat while you stroll the hallowed halls of the Campus School. We invite you to join our prestigious roster of alumni. We will keep you connected with our annual report. Be sure you contact us and join our mailing list.
Featured Alumni
We wanted to share what's happening with some of our ECS alumni:
Margaret Berigan McKinley, ECS '60
Margaret Berigan McKinley, Edgewood Campus School 1960 graduate, returned to ECS and shared lots of history and memories with us! Margaret recently retired from Our Lady Queen of Peace School, where she was the school librarian.
The Berigan family gifted the Campus School with the beautiful relief on the Holy Family located at the apex of our hallway where morning prayers are held each day.
Jeff Greenheck, ECS '67
Jeff Greenheck, Edgewood Campus School class of 1967, came back for a visit and was given a grand tour of the Campus School. He has very fond memories of his days in grade school, especially of Sister Christina (Christina Cegelske), his kindergarten teacher. Jeff is currently the operations director of Metcalfe's Markets. Thanks for the donation from Metcalfe's, Jeff!
Alex WitzAlex Witz, ECS '07
United States Military Academy at West Point
Alex is in his second year at West Point, majoring in political science and minoring in engineering. He plays goalie on the club hockey team and is looking forward to being a squad leader during Army training this summer at Camp Buckner.
Robert Kozarek, ECS '03
"Rolling With the Punches"




Colin Paiva, ECS '11
"Eagle Scout Earns all 130 Merit Badges"




Alumni from the Past
Class of 1964 Graduation Class
Click to Enlarge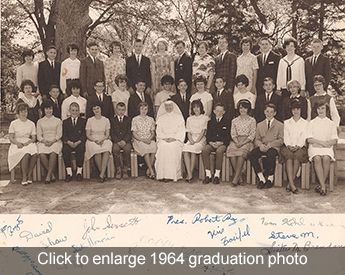 Class of 1964 6th Grade Class
Click to Enlarge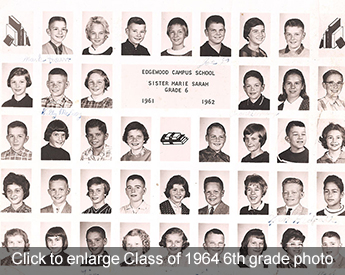 Class of 1987
Click to Enlarge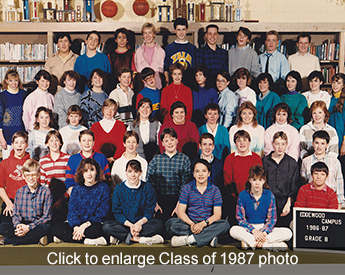 Alumni News
Summer Safety
Everyone looks forward to summer: the vacations, swimming, and longer days to play. When your children are so busy, it can be easy to forget basic summer safety. Here are some things to remember, to ensure you and your family have the best—and safest—school break yet.
Stay hydrated
Spending a lot of time outdoors in summer is a good way to become dehydrated. While sweating keeps you cool, it also zaps your body's water supply. When you or your children are thirsty, instead of reaching for a soda or juice box, grab a water bottle. Water will rehydrate your body faster than sugary drinks, leaving you with renewed energy to go and play. Drinking plenty of water each day—especially when spending time outside—will ensure that you and your family stay safe in the summer heat.
Apply (and reapply!) that sunscreen
Make sure to lather up your family with sunscreen at least 30 minutes before heading outside to enjoy the summer days. This gives the lotion time to soak into your skin and start working its protective magic. Make sure that you also reapply the sunscreen after being in the water or exercising. Don't forget easy to miss areas, such as the back of your neck, ears, and the tops of your feet.
Wear protective clothing
The summer sun can be brutal, especially when you are at the pool or beach. Make sure you wear protective clothing when outdoors. Wearing a long-sleeved shirt made with lightweight fabric can help ensure the sun doesn't burn sensitive skin. Also wearing a hat with a rim large enough to shade your face, not only prevents sunburn, but also helps to keep you cool.
Take a break from the heat
Summer sun is at its peak between 10 a.m. and 4 p.m. Unfortunately, this is also the time most people spend by the water or in summer camp. Teach your family to stay safe in the heat by seeking out shady places to sit and rest, or take a break from the heat altogether and go indoors for a few hours. This will help avoid heat exhaustion, and ensure an enjoyable summer for all.